28 octobre 2013
1
28
/

10
/

octobre
/

2013
13:06
New Vision, Sunday, October 27, 2013
Thousands of Congolese flee M18 attacks to Uganda.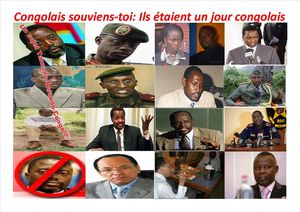 Congolese refugees camped in Bundibugyo district. Refugees have been flocking Uganda from troubled DRC since mid this year. newvision
By Richard Drasimaku

Over 6,000 Congolese from Aru territory in Ituri district, Orientale province have fled to Koboko district following attacks on their settlements by the M18 rebels.

The rebels who also sometimes call themselves the united Congolese peoples army intensified their instability from October 19, 2013 causing the influx.

Most of the affected people are the Kumura Kakwa speaking people who have camped at primary schools and people's gardens, the northern region youth MP Evelyn Anite has said.

She said some of the people including women and children have settled at the homes of their Ugandan relatives while others are stranded without shelter.

LCs on the border sub counties are helping to register the refugees and the ministry for disaster preparedness and refugees has said help in terms of transport and emergency relief aid will be provided not until Monday or Tuesday.

In Kuluba sub county, the LCs registered 2,000 refugees at kagoropa primary school and 800 at Dubai.

Another 200 people were registered at Ogo primary school in Midia sub county where they have camped while at Birijaku primary school in Dranya sub county, 500 people have so far being registered.

"Our concern is that most of these are children below five years and these pupils from these schools are supposed to be sitting for their primary leaving examinations," Anite said.

She said the refugees are unwilling to move to places further inland or to Koboko town because they said they were too tired to walk.

Anite appealed to the Ugandan security agencies to secure the areas where the people have taken refuge and screen the refugees saying wrong elements could use their misfortune to masquerade and cause trouble in Koboko.

The M18 shot to the limelight on March 16, 2013 when their alleged leader, Lt. col. Zachariah Ndamire Ndozi alias Eric, was abducted from him home in Bunga Makindye division in Kampala reportedly by officers commanded by UPDF soldier Col. Fenekansi Mugyeni to be secretly handed over to the Congolese intelligence officers.

The operation was scuttled when the abductors and Eric were intercepted in West Nile before his handover.
Published by kongolibre.over-blog.com