23 mai 2014
5
23
/

05
/

mai
/

2014
13:22
Khulubuse Zuma swimming in oil billions.
May 18 2014 12:55
Jacques Pauw, Rapport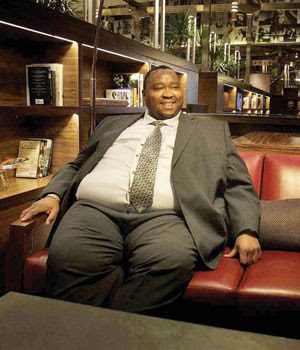 Khulubuse Zuma (Sunday Times)
Related Articles
Zuma nephew loses millions in gold scam
Zuma distances himself from nephew, Aurora
Khulubuse drilling for oil in DRC
Tullow expects Ugandan oil licence soon
Khulubuse Zuma bags DRC oilfields stake
Khulubuse Zuma's cars auctioned off
Johannesburg - The controversial business tycoon Khulubuse Zuma owns an oil fortune of R100bn in the Democratic Republic of Congo ( DRC ) which he allegedly acquired through the help of his uncle, President Jacob Zuma.
An investigation by sister publication Rapport has found that the president played a vital role in the decision by DRC President Joseph Kabila to award two oil fields in the northeast of his country to Khulubuse in 2010.
Eight months before Kabila's decree, in which Khulubuse was awarded two of the most prestigious oil licences in sub-Saharan Africa, he met with his South African counterpart in Kinshasa where the oilfields were allegedly discussed.
A high-level intelligence source with knowledge of the relationship between the two heads of state said the meeting in September 2009 occurred while Zuma was on a state visit to the DRC. According to the source Kabila told Zuma that the untapped oil fields should be used to the benefit of "South Africa, the ruling party and even (the Zuma) family ".
The intelligence source said Zuma did not accept Kabila's invitation to personally benefit from the oil fields. However, shortly after Khulubuse appeared on the Congo oil scene. Six months after the Zuma-Kabila summit Khulubuse established two companies in the British Virgin Islands. A month later the two companies, Foxwhelp and Caprikat, signed a joint contract for the production of oil with the DRC government.
Khulubuse said this week that he is not the one that has to respond to alleged discussions between Kabila and his uncle over the oil fields. Neither Kabila nor the presidency responded to inquiries. Khulubuse said through his media adviser, Vuyo Mkhize, that as a rule he does not discuss details of his business dealings with the president (Zuma).
On a question about the value of the oil fields and Khulubuse's share in them, Mkhize said at the current oil price the oil fields are worth R100bn. He did not want to elaborate on the value of Khulubuse's shareholding. According to a DRC official Caprikat and Foxwhelp paid $6m in "management fees" for the concessions.

http://www.fin24.com/Companies/Mining/Khulubuse-Zuma-swimming-in-oil-billions-20140518
* For more on this story and more news in Afrikaans, visit www.Rapport.co.za
Rusthuru : Krall Metal Congo revendique la propriété des concessions minières de Lueshe.
Publié le jeudi 22 mai 2014
Après l'annonce de la relance des activités dans les concessions minières de Lueshe I et II par un investisseur russe pour le compte de la Société minière du Kivu (Somikivu), l'entreprise Krall Metal Congo revient à la charge pour revendiquer la propriété de ces terres. Le directeur administratif de Krall Metal Congo, Gaston Kangele Mubawa, affirme que ces concessions minières ont été cédé à son entreprise par un décret présidentiel signé en 1999 par le feu président Laurent Désiré Kabila. Selon lui, la Somikivu ne dispose que d'un arrêté ministériel qui n'a pas le pouvoir d'annuler ce décret présidentiel.
«La Société Somikivu a été déchue de ses droits par le gouvernement congolais. Lueshe appartient à la Société Krall, qui a un décret présidentiel signé par Laurent Désiré Kabila le 15 novembre 1999. La Somikivu circule avec un arrêté ministériel. L'arrêté du ministre ne peut pas casser un décret présidentiel», fait valoir Gaston Kangele Mubawa. D'après lui, l'ancien Premier ministre Adolphe Muzito avait instruit le ministre provincial des mines du Nord-Kivu d'étudier le conflit entre les sociétés Krall et Somikivu et de lui en faire rapport. Ce qui n'a pas été fait, a-t-il affirmé.
«Nous ne voulons pas de problème, nous voulons la paix. Celui qui a un décret qui peut casser notre décret, Krall Metal sera d'accord. Mais jusqu'à preuve du contraire, Lueshe appartient à Krall Metal Congo», a-t-il insisté.
Le directeur administratif de Krall Metal Congo indique que son entreprise a déposé une plainte à la cour suprême de justice pour obtenir la reconnaissance de ses droits. Somikivu et Krall Metal Congo sont en conflit depuis plusieurs années à propos des concessions minières de Lueshe, où est exploité le pyrochlore, un minerai de niobium. L'usine de Krall Metal Congo y a fermé depuis 10 ans à cause des conflits armés, mais aussi suite au conflit entre les deux sociétés.
Dans une lettre datée du 29 mars 2011, adressée au procureur de la République près la cour d'appel de Goma, le procureur général de la République, Flory Kabange, avait affirmé que Krall Métal Congo était la seule concessionnaire de la mine de Lueshe. Moins d'un mois plus tard, la même autorité avait adressé une correspondance similaire au procureur général de Goma, reconnaissant cette fois la Somikivu comme le seul concessionnaire de cette mine.
Le procureur Flory Kabange Numbi avait alors expliqué ce revirement par de nouveaux éléments du dossier parvenus à sa connaissance.
Pour rappel…
Khulubuse Zuma bags DRC oilfields stake.
Jun 27 2010 09:29
Dewald van Rensburg
Johannesburg - Controversial businessman and nephew of President Jacob Zuma, Khulubuse Zuma, through his companies Caprikat and Foxwhelp, has gained access to two of only five blocks around the emerging rich oilfields of Lake Albert in the Democratic Republic of Congo to search for oil.
These two blocks were last week unexpectedly taken from British oil group Tullow and handed to Zuma's companies. In a statement Tullow declared the awards a setback for Africa's reputation and said that it was absurd to give exploration licences in a sensitive environment to a company with no experience. Tullow added it had no doubts about its right to the blocks.'
Blocks one and two, those that have now been given to Zuma, were originally given to Tullow and its partner Heritage in 2006. But in 2008 the DRC government awarded Block one to a subsidiary of the JSE-listed South African Oil Company (Sacoil), causing great confusion as to who the actual owner was.
Until last week these awards were only provisional, but President Joseph Kabila has now confirmed them. Apart from Zuma's access to the oil blocks, Sacoil also received the rights to Block three.In a statement on Friday Sacoil welcomed the news, while saying it still wished to liaise with the DRC government about its supposed rights to Block one, which now belongs to Zuma.
Block four has not been finally awarded, while Block five is still in the hands of Soco International and its partner, Dominion Resources.
In 2008 an evaluation of Sacoil's Block three produced an exceptionally conservative valuation of R1.8bn at an oil price of $60 a barrel. Both small and large international oil groups like Total and the Chinese state-controlled oil company, CNOOC, have been trying to get control of this oilfield for the past two years.
The Lake Albert oilfield extends across the DRC's border with Uganda and promises to give a huge boost to the economies of both countries. The big oil groups have had more success on the Ugandan side of the lake. However, in a recent report British watchdog group in the oil industry, Platform, has highlighted various irregularities in awarding the Lake Albert blocks.
It could take years before the region delivers its first oil because significant exploration and capital expenditure are needed before production can begin. Zuma's companies have already entered into partnership with Swiss consultancy Medea Development. Zuma and his partner in Aurora Empowerment Systems, Zondwa Mandela, recently made news in South Africa with their failed attempt to take over the Pamodzi Group, which left thousands of mineworkers without income for months.
http://www.fin24.com/Business/Khulubuse-Zuma-bags-DRC-oilfields-stake-20100627
Published by kongolibre.over-blog.com